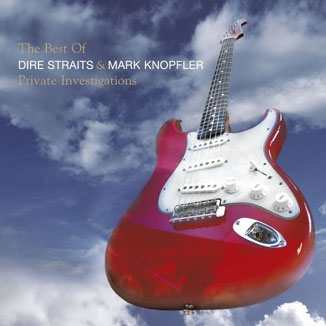 Una banda de rock inglesa que sacudio el mundo a finales de los 70's y durante toda la decada de los 80's fue DIRE STRAITS (activa en el periodo 1977-1995)
Con mas de 118 millones de albums vendidos a la fecha, DIRE STRAITS fue galardonada con prermios Grammys y tan solo produjo 6 albums en estudio y 3 en vivo, ademas de 3 compilaciones, pero el material que produjo los coloco por siempre en la historia del rock, debido a la pasion y gran riqueza de sus temas.
Aqui pueden leer su discografia.
Les recomiendo, las que son para mi sus mejores producciones: Alchemy album en vivo liberado en 1984, Brothers in Arms, album de estudio liberado en 1985, , y la extraordinaria compilacion The Best of Dire Straits & Mark Knopfler: Private Investigations, liberada en el 2005.
Esta ultimo CD, a la venta en 4 versiones, sigue siendo muy buscado y obtuvo certificacion GOLD aun despues de 10 años de la disolucion de la banda.
No dejen de tenerlo en su coleecion.
Tambien les dejo el link de la biografia del lider voz y guitarra de la banda Mark Knopfler.
Adicionalmente su web site oficial y la pagina del tour en progreso.
Finalmente les coloco algunos de mis temas favoritos que siguen haciendo historia y links adicionales con otros temas o versiones.
Disfruten de una de las mejores bandas de Rock de todos los tiempos.
1. Sultans of Swing, en 1986 en Sydney, con close up a la ejecucion.
2. Brothers in Arms, obra magica y aqui solo con Mark Knopfler.
3. Romeo and Juliet, hermosa pieza.
4. Your Latest Trick.
Y ahora los links adicionales:
5. Sultans of Swing, esta version con mas de 3 millones de clicks.
6. Once Upon A Time in the West
7. Tunnel Of Love, atencion al audio. (parte I)
8. Tunnel Of Love, (parte II)
9. Private Investigations
10. So Far Away, en Sydney con una version muy buena.
in
Music
|
tagged
Dire Straits